About Us
MLD Community Care's (MLDCC) Mission is….
"To support holistic care through health and livelihood programs serving poor and distressed communities in rural India."
Dr M. L, Dhawale Memorial Trust's (MLDT) Mission is….
"Excellence in Integrated Homoeopathic Medical Care, Education & Research in order to promote "Positive Health" in a cost-effective manner"
Since 1987, Dr. M.L. Dhawale Memorial Trust (MLDT) has provided healthcare services and holistic community development to the poor and marginalized.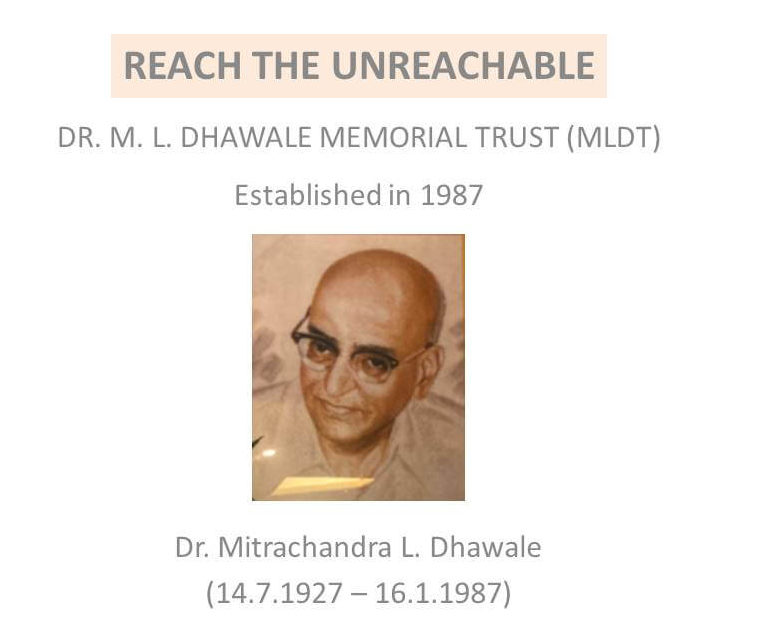 MLD Memorial Trust was established in honor of Dr. M. L. Dhawale who dedicated his life to "Reach The Unreachable"
He inspired a generation of students to serve the poor.
After his untimely death in 1987 his patients, supporters and students started MLD Trust to continue the legacy of Dr. M. L. Dhawale.
MLD Community Care (MLDCC) was founded in the USA in December 2020, as a non-profit charitable 501(C)(3) organization to support the activities of MLD Trust (MLDT) in India.
MLDT's Accomplishments So Far:
– Treated more than 50 million people either free or at charitable rates.
– Conducted more than 50,000 dialysis cycles, saving many lives
– Reduced home deliveries from 90% to less than 2%
– 100% of women undergo antenatal care
– Increased weight at birth from under 2 kilos to 2.8 kilos
– Treated anemia of more than 2000 girls
– Screened more than 5000 young boys and girls for malnutrition and treated all those who were found malnourished as per the WHO guidelines.
– Treated more than 1000 neonates giving them the joy of life
– Operate one of its only kind Senior Citizen centre esp. for senior citizens with psychiatric disorders.
Future Goals – to continue with above services as well as the new goals below:
– Counsel and perform Family planning surgeries
– Set up a large and better facility for senior citizen care (in progress)
– Continuously monitor health of the community to keep a tab of any infections or spread of any epidemic
– Conduct research on effect of homoeopathy on various illnesses and spread its awareness
– Expand services to other debilitating diseases and provide treatment
SERVICES OFFERED BY A DEDICATED AND COMMITTED TEAM
-Homoeopathy & Allopathy Clinics & Hospitals
-Free Mother & Child Care
-Free cataract surgeries
-Charitable ICU & NICU
-Dialysis
-Anukampa ward (For patients with mental disorders)
-Sr citizen care center (Hospice)
-Rehabilitation department
-Joint replacement therapy
-Laparoscopic surgeries
-Cardiac Ambulance
-COVID Vaccinations
In 2022, the dedicated MLDT team provided care to over 200,000 patients through 6 centers, 3 hospitals, 14 urban clinics, 12 rural clinics, and 2 mobile medical clinics.
MLDT is
Recognized as Centre of excellence in Homoeopathy from Dept of AYUSH, Government of India

NABH (National Accreditation Board for Hospital & Healthcare Providers) accreditation for Allopathic and Homoeopathic services

Indian Merchant Chamber's RBNQA commendation certificate

Attached to MJPJAY and PMJAY (Government schemes)
Click here for more information on MLD Trust
We invite you to learn about the difference MLD Trust is making on the local community and hear the heartwarming stories from local patients and community members.
Questions? Reach us at – 503.583.2576
Respectfully Yours,
MLD Community Care Board Directors