Mobile Medical Clinic
The nearest Government run clinic or hospital for the 40,000 inhabitants we serve is about 3 to 10 miles away. With no public transport available, access to healthcare service is virtually non-existent.
Our Mobile Clinic addresses this problem by delivering medical services to their door steps.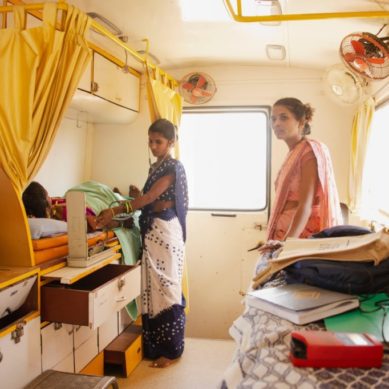 The Mobile Medical Clinic is literally a clinic-on-wheels. With in-built Examination tables and all basic clinical equipment, the Mobile Medical Clinic allows us to take health care services to those who cannot reach us due to lack of transportation, lack of funds or fear of going to a hospital.
It is a big boon to expectant mothers, children and the elderly.
The 25 villages and 150+ hamlets has a population of approximately 40,000 people. Spread over a radius of 15 miles from our hospital, the region is located in the lap of nature. The main source of livelihood is rain-fed paddy agriculture. Post monsoon and after the paddy is harvested, most of the male population migrates in search of work, leaving behind the women, children and elderly.
For most of the villages, nearest Government clinic is 3 to 10 miles away and the Government hospital another 3 miles further down. Transport facilities are non-existent. Consequently most of the illnesses are ignored until it becomes a life threatening situation.
A clinic built on a minibus chassis is equipped with all essential instruments, counseling table, examination bed, medicine dispensation area. The clinic travels with a team of medical and paramedical staff to every village twice a month. The Community Health Worker, a local resident of the villages encourages the patients to assemble where the mobile clinic is expected to arrive. The expectant mothers go through their routine examination and are given the essential supplements. Other patients are examined by the doctor and medicines are dispensed by the driver who is a trained compounder.
The social workers who also accompany the mobile clinic, use this opportunity to generate awareness of health issues among the villagers.
The mobile clinic, visiting every 15 days on a pre-scheduled date and time is a big boom to expectant mothers, children and the elderly.
The Community Health Volunteer, spreads the awareness of importance of visiting a medical practitioner and encourages patients to come to designated spot on a designated date. She also encourages expectant mothers to register for Antenatal care and those register to come for routine checkup.
The Mobile Medical Clinic is extremely convenient to expectant mothers, children and to geriatric population, whose ability to visit the hospital is limited.